Pheasant hunting is an extraordinary entryway to introduce young hunters and beginners to the hunting world and colorful hunting community.
Before we start our guide about hunting pheasants, let's first make a short intro about hunting.
Hunting is part of our genetic legacy. However, if you want to be politically correct in these modern times, you cannot describe hunt as a sport, hobby, nor as recreational shooting, and just by no means as shooting for fun.
For most hunters, hunting is a way of life, but like in everyday lives, it is imbued with various regulations, unwritten rules and hunting ethics.
While for the early hunter-gatherer populations hunting for food was a necessity, modern humans hunt for the sake of keeping genetic legacy, ability to survive and finally to utilize wild game for food.
A distinction between hunting small game and big game was made early.
Small game and game birds include small animals, such as rabbits, squirrels, pheasants, geese or ducks.
Although you may encounter hunters specializing only in a big game or in singular trophy pursuits, most sportsmen enjoyed hunting for everything in a generalist manner.
Before Getting Started: Be Aware of the Regulations
As a group activity, pheasant hunting is an attraction for many hunters because of the social aspect.
You can socialize with fellow hunters and have great fun, but you also need to be aware of specific group hunting regulations.
Besides usual rules to stay safe while hunting, group hunting demands added precautions like wearing bright colors or walking shoulder-to-shoulder to prevent shooting each other.
Although the pheasant hunting season generally begins in the late fall and goes through the early winter, depending on states and wildlife agencies, you can encounter different public land regulations.
For example, most pheasant hunting states do not allow hunting female "hens", and some states have different shooting hours and bag limits.
Similar to other types of wildlife hunting, there are several pheasant hunting tips for beginners and general tactics on how to start bird hunting.
You can find a comprehensive state-by-state maps and hunting regulations at wheretohunt.org
Where to Hunt Pheasants?
Just as the pheasant hunting season approaches, many beginners' central question to upland bird hunting is where to hunt pheasants.
As the America's most popular game bird, the ring-necked pheasants are the most numerous throughout the northern Great Plains and the upper Midwest, with South Dakota as the Pheasant Hunting Capital of the World.
Once you have narrowed your search for a pheasant land, another thing you should know is when pheasants are most active.
The rolling hills with grasslands, agricultural areas and cattail marshes are home and favorite cover for the pheasant population.
Though the opening day of upland bird season is highly tempting to many huntsmen, hunting during the later season and after the first cold spell of the season can be very productive and a lot of fun.
In the early morning and twilight hours, the pheasants are out from their cover looking for food and enabling hunters to locate the birds quickly.
However, many people believe that hunting good roosting cover on freezing days in the last 45 minutes of daylight can be absolutely spectacular.
How to Shoot Pheasants?
Compared to ducks and geese, pheasants are much easier to bag, but don't be deceived; these raucous, iridescent game birds are far from easy shots.
When we talk about pheasant hunting shooting tips, the first rule is to make your shot only when the bird is well above the heads of all hunters and strictly avoid shots on low-flushing crossers.
Most ringnecks are shot within 20 to 25 yards of the muzzle. With proper gun/choke/load combination and practice, you will get the densest pattern at the 20-inch circle at the given distance.
You can refer to our popular article regarding the best shotgun chokes for bird hunting here.
While the hunting pheasants are downright addictive, don't shoot too soon because there are great chances to miss the closer range or those you bag will be mangled and inedible.
A rule of thumb is that you have to wait for a second to read the pheasant's angle, aim ahead of the bird and shoot.
How to Pheasants Hunt With and Without A Dog?
More often than not, first-time pheasant hunters will chase the wily roosters without a dog on foot.
The shortest answer to question how to pheasant hunt with and without a dog; it is better to hunt with the dog, but it is absolutely possible to hunt ringnecks solo, without a dog.
There are few solo pheasant hunting tips, like covering field edges, hunting into the wind, or walking in a zigzag or "S" pattern with frequent pauses to confuse and make birds nervous.
When I started hunting without a dog, my focus was on small areas that will likely hold pheasants. Using a stick in my left hand, I hit the bushes and hoped to flush birds within shooting range.
If you plan to cover large areas like cornfields or cattail marshes, you will need to hunt in a group.
With multiple hunters, you can use half of the group as "blockers," placed at the end of the field to get shots at pheasants that flush out of range of the walking hunters.
In fact, the true meaning of pheasants hunting is to have a bird dog and use it to track and locate birds for you. In some cultures, civilians call hunting a walking after a dog's mind.
Anyhow, you should follow and trust dog instinct because a good bird dog will work to find your pheasant.
There are Two Varieties of Pheasant Dogs:
The most popular options in the U.S. fields are flushing dogs like Labradors and Springer Spaniels that will track and rush pheasant out of heavy cover, causing them to break and fly.
The other bird dog type is suitable for finding birds in light cover, but instead of flushing pheasant, they will remain still and "point," notifying owners of the bird's location.
Choosing Rifle and Calibre for Pheasant Hunting
When we are talking about weapons for pheasant hunting, we are discussing smoothbore firearms, shotguns.
The shotguns are made in various actions and systems, but for pheasant hunting, the most suitable are double-barreled shotguns with over-under and side-by-side barrel configurations.
U.S. hunters prefer semi-automatics and pump-action guns, but you should be aware that these repeaters are not accepted as a sporting weapon in many other countries.
While the most gauges of shotguns will be effective on ring-necked pheasants, a 12-gauge shotgun is always popular medicine.
Along with classic 12-gauge, there are many other caliber options for your upland shotgun, including 20-gauge, 16-gauge, 28-gauge and .410, but we would leave them for most seasoned hunters.
Best Pheasant Hunting Gear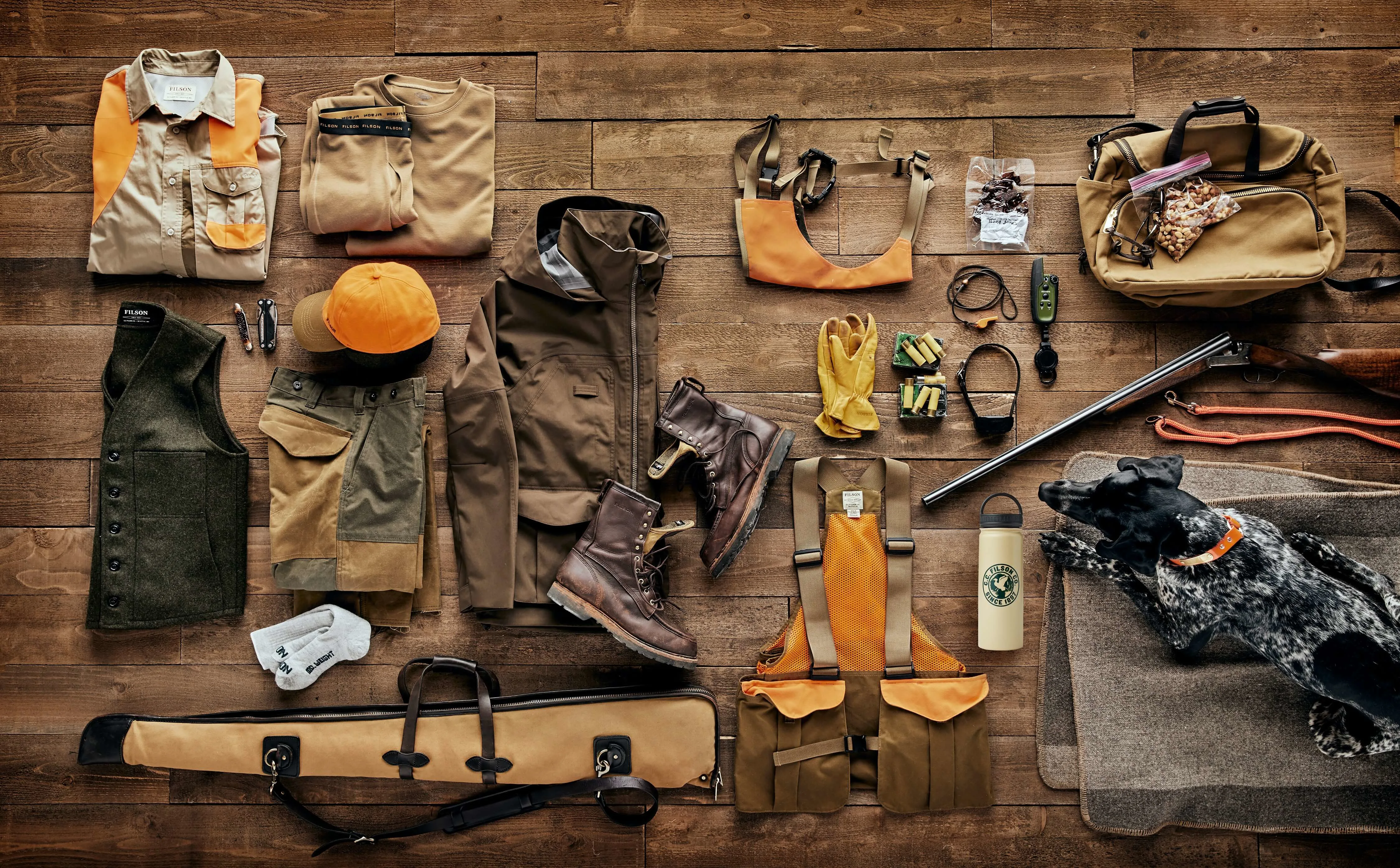 Consider weather conditions to avoid the most common error pheasant hunters make- to overdress.
Although late-season hunting weather can be freezing, it is better to dress in thinner layers with something lightweight rather than a heavy coat.
Though green/brown gear colors are traditional for European pheasant hunters, any color hunting clothes are acceptable in an American hunting culture.
Of course, quality blaze orange wear should be at the top of the list for anyone hunter since wearing bright colors could save your life.
As any hardcore pheasant hunter knows, next to your firearm and your dog, the right hunting boot is a crucial part of your gear for an enjoyable experience in the field.
Considering the footwear and protective gear for upland hunting, you will not probably need heavy boots or brush pants.
The good all-weather pair of boots will be perfect for almost the entire season, and pair of quality insulated rubber boots for hunting in cattail marshes, wet fields and colder weather.
Best Pheasant Hunting Outfitters in the U.S.
Below is the list of featured Pheasant Hunting outfitters, guides, lodges, & preserves in the United States:
| State | Outfitter Name | | | |
| --- | --- | --- | --- | --- |
| Colorado | KB Style Adventures | – | | |
| Florida | Cypress Ridge Hunting Preserve | – | | |
| Kansas | NCK Outfitters | Rader Lodge | | |
| Manitoba | Riverside Lodge | – | | |
| Nebraska | Hunt The Rackett | – | | |
| Nevada | G&J Outdoors | – | | |
| Oklahoma | Hunt Mill Hollow Ranch | – | | |
| South Dakota | Buffalo Butte Ranch | Pheasant City Lodge | Eagle Pass Lodge | Platte Creek Lodge |
| GUIDE South Dakota Ph. Hunting | SoDak Prairie Acres | Antler Ridge Lodge | Rieger Creek Lodge | Legacy Pheasant Hunts |
| Wisconsin | Cedar Valley Preserve | | | |
Frequently Asked Questions:
a) Is Pheasant Hunting Hard?
Unlike more sedentary and individual hunting styles that can be utilized for deer and hogs, the pheasant hunting demand from you solid physical condition and ability to walk an uneven terrain.
It would help if you were prepared to hunt in incline weather, but also, weather can be scorching and dry, especially when hunting early in the season.
b) How Do You Hunt Stocked Pheasants?
Stocked pheasants are pen-raised birds that haven't developed optimal foraging patterns essential to survival in the wild. However, the newly-released pheasants have a solid chance against solo hunters and do provide an opportunity to keep your dog in shape.
Hunting stocked pheasants are particularly interesting for large hunting groups without dogs. Applying the Push and Block strategy, a large group of hunters can push through a field with one group placed at the end of the field to serve as a barrier to escaping pheasants.
c) What Do You Use for Pheasant Hunting?
Although you can use any shotgun you have at your home, double-barreled shotguns with Improved Cylinder in one and Modified-choke in the second barrel are the most common firearm for pheasant hunting.
d) Is It Illegal to Hunt Pheasants?
It is not illegal if you follow the rules about dates, hunting hours and daily limits. Hunting females is often illegal.
You should also check the pheasant hunting season start and end dates and make a license requirement to hunt small game.
e) What is the Best Calibre to Hunt Pheasants?
For bagging a rooster, you can use any modern shotgun with calibers ranging from .410, 28-gauge, 20-gauge to standard 12-gauge. Since the pheasants are big and tough, you should follow the saying "the bigger is better" but stick with a 12-gauge weighing less than 8 pounds.
f) What Gun Do You Use to Hunt Pheasant?
As a young man impressed with Hollywood action movies, I bought the Mossberg pump-action 12-gauge shotgun. It is a reliable and durable gun, but now my favorite upland gun is a Baikal IZH 27, 12 gauge over-under, a copy of legendary Browning B25.
g) What Is the Best Shotgun Shell for Pheasant Hunting?
The pheasants can take a punch, so you will need to place at least 4 or 5 pellets in the body to anchor a rooster reliably.
Depending on weather and habitat, pheasant hunting may require lighter or heavier shot loads. Universally, you will be firing a shot size 4 of 5.
As the lead shot is often forbidden on public lands, you'll need steel shotgun shells with a larger shot size.
Final Thoughts
Hunting small game is incredibly challenging, and it will make you a better big-game hunter.
Unlike stalking hunt, it's an active chase that hones skills and improves your attitude necessary to become a safe and responsible hunter.
Over and Out.
Also Read:
The 5 Best Thermal Monoculars: Coyote Hunting to Birding!