There are many hunters whose favorite targets are squirrels and rabbits.
In many instances, a great choice for small game hunting is a quality pellet gun. There are many reasons for this choice, including the less stringent laws and ordinances addressing air rifles.
These are not your BB guns available at local big box stores. The pellet guns capable of consistent accuracy and power for hunting are a different breed.
Pellet guns for hunting squirrels and rabbits demand higher velocities and heavier projectiles. Most hunters choose a rifle that shoots a 14.3-grain .22-caliber pellet.
To be effective on small game such as squirrels and rabbits, the pellet gun must drive the projectile greater than 900 feet per second. Accuracy is the key factor.
With low-power rifles and lightweight projectiles, shot placement is critical for clean kills.
There are many good pellet guns on the market. But finding the one that fits your needs, hunting style, and budget can be a challenge.
We have scoured the marketplace and looked at hundreds of pellet guns in our search for the best pellet guns for small game hunting like hunting squirrels and rabbits. These rifles represent our choices for your best options.
In any case, the preferred rifle type for small game hunting will be Pellet Guns.
Tl;dr
Best Pellet Guns for Squirrels:
What Caliber Pellet Should You Choose?
Go with .22 for small game hunting.
In general, there are three caliber choices available in air rifles suitable for hunting small game, such as rabbits and squirrels. Each caliber has pros and cons that deserve consideration when choosing a pellet rifle for hunting.
You should understand the advantages and disadvantages of each caliber as you make your decision.
.177 Caliber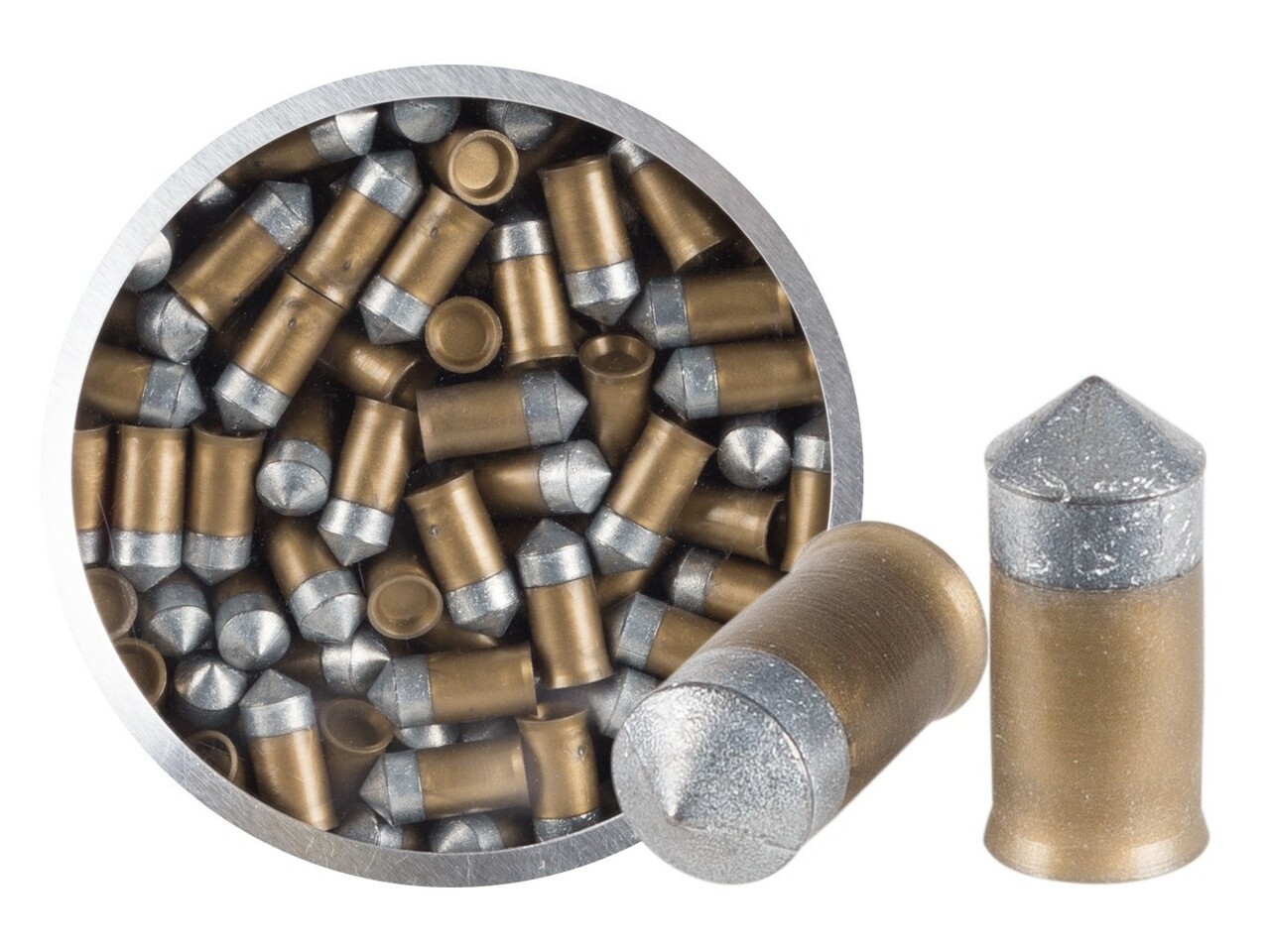 Among air rifle enthusiasts, the .177 caliber pellet remains the most popular. One great advantage of the .177 caliber rifle is the velocities you can achieve with a given amount of air gun energy available.
These higher velocities mean a flatter shooting rifle which many shooters appreciate for accuracy reasons.
Most air rifles suitable for hunting squirrels in .177 caliber develop around 1000 fps. This is generally considered the minimum muzzle velocity required for clean kills on small game.
The accuracy of many of these pellet guns chambered for .177 pellets makes them suitable for target shooting as well.
.22 Caliber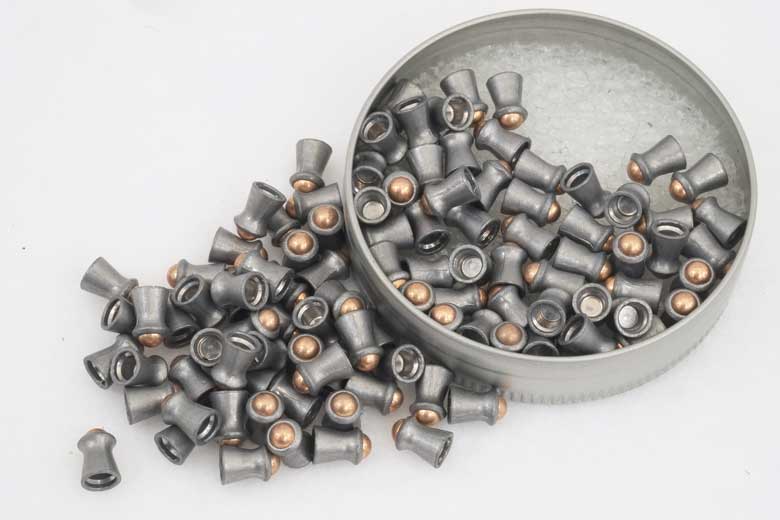 A great advantage to choosing a pellet gun chambered for .22 caliber pellets is the gain in weight.
The heavier weight of the pellet gives greater knockdown power downrange. Depending on the size and weight of your target, this can be a huge advantage.
On the other side of the coin, .22 caliber air rifles have a much shorter effective range than the .177 caliber rifles.
At best, you can expect effective ranges between 45 – 50 yards.
If you are hunting varmints such as crows, raccoons, woodchucks, or jackrabbits, a .22 caliber air rifle is a great choice.
.25 Caliber
Not as many shooters are aware that many air rifles are chambered for a .25 caliber pellet.
This is typically the largest projectile available in what are still considered pellet rifles.
The increased size and weight of the .25 caliber pellet improve the pellet's delivered energy to your target.
However, as weight increases, the effective range can also decrease.
One other disadvantage to air rifles that can drive the larger .25 caliber pellet is increased cost.
Air guns capable of developing the necessary energy to get the .25 caliber pellet up to a muzzle velocity suitable for hunting tend to be on the expensive side.
Our Picks for Best Pellet Guns for Hunting Squirrels:
Of the many pellet rifles on the market, this is a very short list of what we consider to be the best options for hunting squirrels and rabbits.
We have chosen a variety of styles and types of pellet rifles for our list.
Benjamin Marauder .22 Multi-Shot Bolt-Action Hunting Rifle
Benjamin has been making air guns of all styles, sizes, and types for many years.
The Benjamin brand name is recognizable by all shooting enthusiasts.
It is no wonder that the Benjamin Marauder makes our list of pellet guns for squirrels and rabbits.
One great advantage to the Benjamin Marauder line of pellet gun is the accuracy of these air guns.
You can order a Marauder with either a Crosman barrel or a Lother Walther barrel.
You also get a choice of calibers up to .25. Caliber. Benjamin doesn't skimp in other features included with the Marauder air rifle.
Features
Adjustable-comb allows you to fit the rifle to your shooting styles
A reversible bolt action allows ambidextrous shooting
The 10-shot rotary magazine allows rapid backup shots
An 11mm dovetail on the receiver is optics ready
Each Marauder rifle includes a two-stage adjustable match trigger
Adjustable velocities for best shooting performance
Built-in air pressure gauge
Uses compressed air up to 3000 psi
The Marauder rifle can be quickly refilled from scuba tanks or hand pumps
Specifications
The Benjamin Marauder is capable of muzzle velocities of up to 11oo fps
Rifled barrel
Weight – 7.30 pounds
Length – 42.80 inches
32 shots per fill
Includes a 5-year limited warranty
What Shooters Say about the Benjamin Marauder
By and large, shooters of the Benjamin Marauder rave about their air rifles. The many comments found from Marauder shooters fall into these general categories.
This is one of the quietest pellet guns they have shot. There is almost no vibration, bounce, or noise with this rifle.
The Benjamin Marauder consistently shoots dime-sized patterns at 25 yards.
The two-stage adjustable trigger is great. We get clean, consistent let off with every shot.
This rifle shoots well enough that a bipod is a worthwhile investment to increase your accuracy
There are some minor downsides to the Benjamin Marauder pellet gun. In general, these comments reflect some users' concerns:
The bolt can be difficult to work for some people. It takes some effort to cock the rifle.
There is no way to tell if a pellet is in the chamber and the gun is cocked
There are no iron sights on this rifle. For the best results, you must mount an optical scope of some kind.
Despite the few shortcomings, the Benjamin Marauder is a great value in a pellet gun that will perform in the field or on the range.
The street price for this rifle is well within the budget of most serious air gun shooters and hunters.
For that price, you will get excellent and reliable performance.
AirForce Condor SS (.22 Cal)
AirForce Air Rifles may not be the household known name of other air rifle manufacturers, but among avid air gun shooters, AirForce is a recognized leader.
AirForce concentrates solely on high-power pellet guns for hunting and target shooting.
They offer a line of quality pellet guns featuring innovative designs.
AirForce delivers air rifles to meet almost any need.
The company makes it known that their air rifles can take some of the larger game animals in North America, where it is legal.
For hunting squirrels and rabbits, the AirForce Condor SS is a great choice.
You will get the expected features with an AirForce air rifle, such as:
Features
AirForce Sound-Loc® noise reduction technology makes the Condor one of the quietest air rifles on the market.
Specifically designed for small game hunting and pest control.
Ring-Loc ™ valve system increases velocity and energy levels
Easily adjustable pressure system
Spin-on Air tank for rapid tank changes
Unique design and looks
Made in the USA
Specifications
Available in .177, .22, and .25 calibers
490cc air tank rated to 3,000 psi
Refillable from a scuba tank
Capable of up to 1100 fps
Bolt action operation
Weight – 6.10 pounds
Length – 38.13 inches
1mm dovetail rail for optics mounting
Limited Lifetime Warranty
What Shooters Say about the Airforce Condor SS
Overall, shooters are extremely complimentary about the AirForce Condor SS Air Rifle. Their remarks fall into these types of categories.
One of the quietest pellet guns in the collection.
The quality of the construction is impeccable
A perfect gun for squirrels and other small game. Enough power to score clean kills.
The Condor SS gives us almost double the range of our old air rifle.
There are some factors about the AirForce Condor SS to consider before making your purchase.
This is a single-shot air rifle. Rapid follow up shots are just not possible
Some users have had problems with the threads on the spin-on air tank
Expect to add a scope and a bipod to get all you can get out of this rifle.
AirForce is a Texas company that designs and produces its air rifles in the US.
The customer service from AirForce is, by all standards, excellent when a problem does arise.
These rifles are a bit pricey but well worth the extra investment for a quality pellet gun that will give you years of service.
Hatsan BullBoss QE Air Rifle
Hatsan BullBoss QE .22 Cal Air Rifle with Included...
IN THE BOX: 1 x Hatsan BullBoss QE .22 Cal Air Rifle; 1 x Pack of 100x Paper Targets; 1 x Pack of...
QuietEnergy fully shrouded barrel and Integrated Sound Moderator – Approximately 50% Quieter.
230cc Removable Cylinder. Quattro Trigger. Combo Scope Rail (11mm and 22mm).
If you want the tactical look for your air rifle. The Hatsan BullBoss is a great choice.
Modeled after the most popular tactical rifles, the Hatsan BullBoss packs an astounding array of features and power into one of the shortest frames in the pellet gun market.
At only 36 inches overall, the Hatsan BullBoss is compact and easy to maneuver in the heaviest brush.
Every Hatsan BullBoss comes with an integrally suppressed barrel for the quietest shooting experience you can imagine.
The quiet shooting coupled with the rotary 10 shot magazine makes quick and accurate follow-up shots possible.
You won't find the Hatsan BullBoss lacking in features.
Features
Side-lever cocking for fast follow up shots
Available in .177, .22, and .25 calibers
Integral Picatinny rail for both 11mm and 22mm scope mounts
Adjustable cheek comb for comfortable and accurate shooting
Precision rifles barrel with choke
Integral sound suppression built into the barrel
Quick-fill nozzle included with the kit
Quattro trigger includes a two-stage adjustable match trigger
Fitted sling swivels
Kit includes two rotary 10 shoot magazine
One year limited warranty
Specifications
Available in .177, .22, .25 calibers
1070 FPS
Side lever action
Rifled Barrel
Weight- 8.6 pounds
Length – 36.8 inches
Magazine capacity – 10 pellets
Two-Stage Adjustable Trigger
What Shooters Say about the Hatsan BullBoss
A review of user comments finds most shooters using a Hatsan BullBoss are above average. In general, the comments follow these trends.
A well-balanced pellet gun that shoots easily but also allows you to tune the gun for even more incredible accuracy
AT 25 yards, single hole accuracy is not uncommon
A very quiet air rifle for the money
If you need a .25 caliber air rifle, the Hatsan BullBoss is a great choice
Some shooters did have some minor difficulties with the Hatsan BullBoss rifles
The plastic stock models can be a little fragile. In particular, the side cocking plate often breaks. A metal replacement is available.
If you are a serious shooter, adding air regulation to the rifle is necessary.
The bipod mount looks and feels a little flimsy
Despite a few minor issues, the Hatsan BullBoss air rifle is a great value for an air rifle capable of taking down squirrels and rabbits.
Getting off a quick follow-up shoot with a quiet rifle can be a huge advantage on multiple targets.
Benjamin Trail Nitro Piston XL
If you are a purest and want a pellet gun that looks and feels like a rifle, the Benjamin Nitro Piston XL is your choice. The Benjamin Nitro XL features a wooden thumb-hole stock with integral cheek rest. Not only does this air rifle shoot above average, if you like the look of a traditional hunting rifle, this one fits the bill.
This is not just a good-looking rifle. The Benjamin Nitro XL is also a performer.
This rifle can launch pellets at 1,100 fps, making it a perfect choice for small game such as squirrels and rabbits.
With the reputation of Benjamin, you can expect to get a full-featured air rifle of high quality and reliability.
Features
Benjamins Nitro Piston Technology delivers precise and consistent power
Gas piston technology that uses nitrogen as the power source
Quiet operation without the spring or a traditional spring rifle
Less felt recoil
Ambidextrous thumbhole stock made of hardwood
Integral rail for quick optical sight mounting
Includes a Centerpoint 3-9x40mm mil-dot scope
Sling mounts and swivel studs pre-installed
Specifications
.22 caliber
Muzzle velocity – 1100 fps
Break barrel action
Single shot
Rifled-barrel
Weight – 9.7 pounds
Length – 48.25 pounds
Gas-piston action
5-year limited warranty
What Shooters say about the Benjamin Nitro XL Air Rifle
Overall, shooters of the Benjamin Nitrol XL are positive in their comments. Surveying shooters about this air rifle found comments that fit into these categories.
Easily shoots dime-sized groups at 30 yards with a heavier pellet
One of the most powerful air rifles available in this price range
The beautiful finish on the stock makes this a showpiece
The break barrel design is great for beginning shooters to teach patience and accuracy
On the other hand, some shooters found some inadequacies in the Benjamin Nitro Air Rifle.
An adjustable trigger would be a great addition to this rifle
Lighter pellets can go supersonic, resulting in a distinct sound. Heavier pellets seem to work better with this rifle
This is a heavy rifle
Admittedly, this is not the pellet gun for a lot of people. Many shooters want something more futuristic. However, if you prefer the traditional look and feel of a rifle, the Benjamin Nitrol XL is a perfect choice.
You will get the performance and the looks you want at a very reasonable cost.
Gamo Magnum Air Rifle
One of the hardest-hitting air rifles available in .22 caliber is the Gamo Magnum Air Rifle. Gamo advertises that the Magnum air rifle can produce 1,300 fps of muzzle velocity.
This puts the Gamo Magnum pellet rifle near the top of the charts. The more traditional look of the thumb-hole stock on the Gamo rifle is another plus with some shooters.
Gamo has put the features into this rifle that are the most popular with shooters.
This includes a two-stage adjustable trigger, rubberized grips, and the IGT Mach 1 air valve system for increased accuracy and consistency. Among the other features you will find:
Features
Reduced shock and recoil with the IGT Mach 1 piston system
A weather synthetic thumb-hole stock with rubberized grips
Kit includes a 3-9×40 adjustable objective scope
Ambidextrous stock design
Fluted barrel
Recoil Reducing Rail
Five year limited warranty
Specifications
Cocking effort – 41 pounds
Length – 49.2 inches
Weight – 6.88 pounds
Available in .177 and .22 calibers
Muzzle velocities – .177 caliber 1650 fps, .22 caliber 1300 fps
What Shooters say about the Gamo Magnum Air Rifle
Overall, the reviews and comments about the Gamo Magnum air rifle are above average. We found that shooters frequently leave comments about the Gamo Magnum air rifle such as:
One of the most powerful and accurate break barrel air rifles I have shot.
As accurate as any air rifle on the market when paired with the right pellet
Quiet operation allows me to practice in my backyard without disturbing or alerting my neighbors
The rail system does seem to help dampen the shocks to the scope
There are some negative comments about this air rifle as well. Typically, those comments regard these categories.
This rifle is very sensitive to the pellet you shoot. It may take some time to find the best combination for your rifle
The included scope is often not worth the effort. Scrap it and put a better scope on the rifle.
If you want the highest possible muzzle velocities, the Gamo Magnum air rifle is good. This break barrel design will deliver excellent power.
However, it may take some experimenting to find the best pellet weight and material to get the best performance from this air rifle.
FAQs
What Size Pellet Gun/Rifle Will Kill a Squirrel and Rabbit?
Any quality pellet gun shooting one of the three most popular caliber pellets can kill a squirrel or a rabbit. If you want to seriously hunt with a pellet gun, no matter the caliber of pellet, a minimum muzzle velocity of 1000 fps is recommended.
More often than not, your success will depend on the rifle but your ability to stalk, locate, and shoot accurately when the time comes. Any gun, even a pellet rifle, will only perform as well as you can perform.
Do You Need a Scope for a Pellet Gun?
In general, yes. Higher-end air rifles suitable for hunting small game don't come with iron sights but have rails built onto the receiver to mount a scope. Some manufacturers include a small scope as part of the gun package.
However, most shooters opt to ditch the included cheap scope and put a better quality scope on their pellet gun/rifle.
What's the Best Range for Hunting Squirrels and Rabbits?
Your effective hunting range depends on several factors. All work together to determine the best range you should consider when hunting squirrels and rabbits with a pellet rifle. In general, you shouldn't expect your pellet rifle to be effective and accurate past 50 yards.
Muzzle Velocity of your Pellet Rifle – The minimum velocity at the muzzle of any pellet gun used for hunting squirrels or rabbits should be 1,000 fps. No matter the caliber, this muzzle velocity will give you the adequate range for a clean kill.
Delivered Energy and Caliber – Lightweight pellets don't deliver as much energy to your target as heavier pellets. However, lighter pellets tend to hold that energy at farther distances. There is a trade-off between pellet caliber and energy that affects the range.
Shooter Ability – Your ability to judge distance, compensate for wind and elevation, and accurately put pellets on your target are part of the equation as well. Knowing your own limitations and abilities can make a big difference in your effective shooting distances.
Finding the Right Pellet Gun for Hunting Small Game [Squirrels and Rabbits]
Searching for that perfect pellet gun is not much different than looking for the perfect conventional rifle.
The rifle must fit your needs and expectation as well as your hunting or target shooting style.
There are many different options from which to choose.
These are, in our opinion, excellent choices for the different designs and styles of pellet guns/rifles.
Good luck and good hunting.