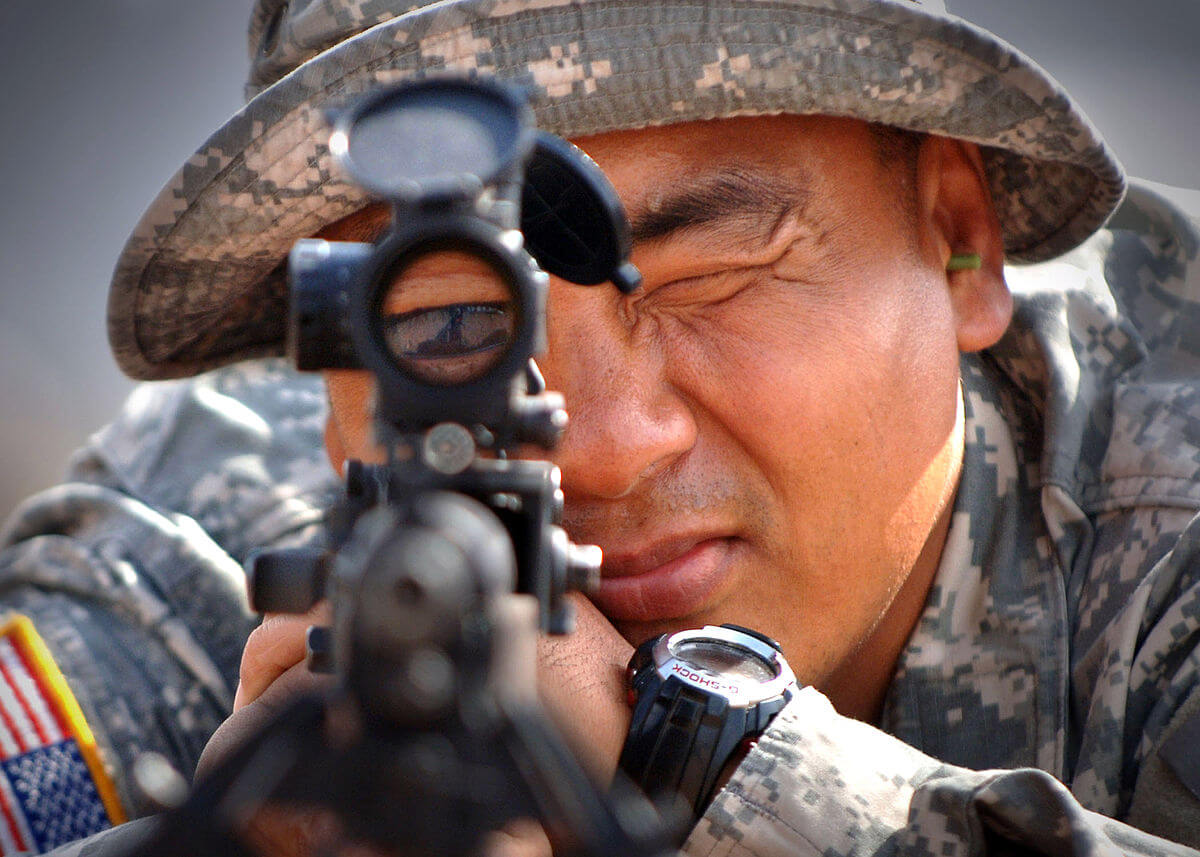 With my years of experience combing through the woods, aiming for the best kill, I have been able to figure out the best scopes for 308 for hunting. You know how hunting and target shooting can be, one wrong move and you lose your mark.
Like I always tell people, the secret to my success especially in the hunting scenario is my age long acquisition of 308 rifles.
A piece with a glorious past, so versatile, the military loves it, the hunters love it, one shot at the prancing bear and its dead, no question asked.
Alright, enough with the fan talk.
Here is a quick comparison table for the best scope for 308, or you can directly view all scope reviews here.
I've listed some of the best scopes for 308 rifle that you can get in 2021.
And when I say the best, I'll be considering all the factors, your budget too! Though I would say, don't cheap out. There are many hunters with a $4000 rifle and a $150 optic. Train well, read more and stay away from those "infomercial" reviews.
The 308 is Jack of All Trades and Master of Some
Here's the deal, with so many capabilities the 308 has its limitations. The effective distance for the 308 is anywhere up to 800 yards, targeting further distances with the 308 becomes questionable.
The bullet's projectile drops like a rainbow past 350-400 yards. Of course, I am not denying the fact that you can hit targets at 2000 yards too!
Now to get that 1 shot kill you need 3 things: A good load, skills and a good scope for 308.
Best Scope For 308 (Medium to Long Range)
Nikon M-308 4-16×42 Riflescope
The first on the list and worth it.  Who doesn't love the scopes by Nikon? As the name tells, the Nikon M-308 is specifically designed for .308 rifles.
Well-Engineered Build

:
The Nikon M-308 is built with a one-piece aircraft grade aluminum alloy thus providing the optic a robust and a lightweight structure. A lot of thought has been given to the design of this scope, it is waterproof, shockproof and fog proof thus prevents any moisture or dust from hindering your view.
Amazing Clarity

:
A 42 mm objective lens, 4-16x variable magnification along with Nikon's Ultra ClearCoat Optical System which allows up to 95% light transmission makes this optic to produce bright, crisp and clear picture. The huge objective lens allows you to hunt and shoot even at low light conditions.
BDC 800 Reticle:
With an inbuilt BDC reticle that is designed for a 100 yard zero, the Nikon M-308's crosshair comes with points up to 800 yards.
This means, if you're aiming at a target at 600 yards, all you've to do is place the 600 yard point on the target and shoot!
Instant Zero- Reset Turrets:
The parallax adjustment (from 50 yards to infinity) along with the spring loaded instant zero-reset turrets in a budget is what a hunter would ever ask for.
The tactical turrets are well built and give the user a positive feeling. The maximum internal adjustment is 40 MOA while it provides ¼ inch adjustment per click.
What does Zero-Reset turrets mean?
For instance, you have your rifle zeroed at 100 yards and you set the turret to zero. Now to shoot at 500 yards, all you have to do is dial it to 500 yards (5 MOA) and click back to zero.
Compatible with Nikon Spot On App:
As I always say, the Nikon's Spot on Program is the greatest achievement after the moon landing. You can make accurate adjustments according to different loads right from the program.
1 shot and its dinner on your table.
Scope Testing:
Scope Tested On
Target Distance
The Nikon M-308 has been tested on many rifles, here are some of them:
Aero Precision AR-10.
Ruger SR-762.
Sig Sauer 716.
Remington 700 (Took out a deer at 600 yards with 175 gr.).
LAR-8.
M1A Standard.
While researching, I could find that it had easily targeted at 920 yards with Ruger SR-762 (41 MOA).
Pros:
Amazing Clarity.
Clear image at higher magnifications.
Turrets are tactical.
BDC 800 Reticle.
Verdict
There are many good 308 scopes in the market but when it comes to the value for money, the Nikon M-308 is the best 308 scope for a beginner or an expert hunter/shooter looking to aim at medium to longer distances. Its feature rich, user friendly, produces clear vivid image and can be easily used for diverse distances. This scope is an amazing choice for target shooting and hunting.
Nikon P-308 4-12×40 Rifle Scope
Just like its elder brother, the Nikon P-308 is the best budget 308 scope you can get for the money. Loaded with premium features, the Nikon P-308 is built specifically for 308s.
Comparing with Nikon M-308, the P-308 has everything apart from 16x magnification, parallax adjustment.
It has a 40 mm objective lens. The parallax is set at 100 yards as its intended for long range hunting/shooting.
The 4 inch eye relief is an advantage when using a harder kit and cartridge with 308.
The BDC reticle is calibrated to be used with 168 gr. Projectile at 26800 feet/sec. So, if you're using something else, use Nikon's Spot On software which allows you to pick specific loading thus increasing your accuracy.
What's the Difference Between Nikon P-308 and Nikon M-308?
The main difference is the glass and build quality. The P in P-308 means Prostaff and M in M-308 is Monarch. And the Monarch series has better glass and build quality and more features.
Tested On

:
LR-308.
Remington 700.
Troy 308 AR.
PSA AR-10.
Ruger Predator 308.
Diamondback DB10.
Verdict

:
If you need the same features just as the M-308 but at a lower price, then the Nikon P-308 can be your choice. Its surely one of the best affordable scopes for 308 out there.
Leupold VX-Freedom 3-9x40mm
Especially designed for medium range shooting/hunting, the Leupold VX-Freedom is one of the best budget scope for 308  you can get in the market.
Equipped with a 40 mm lens coated with DiamondCoat lens coating, the Leupold scope provides a crisp and clear image quality.
Index Matched Lens System:
The Leupold VX2 boats Quantum Optical system along with Leupold exclusive index matched lens. The end result is, maximum light transmission, hence making it a great choice to hunt in even low light conditions.
Custom Dial System:
The CDS system with elevation dials provides precise bullet drop compensation, enabling you to make quick elevation adjustments to match your load, velocity and conditions.
Note: The CDS scope comes with a coupon to get a free CDS specially designed for your ballistics.
Scope Testing:
The Leupold VX-Freedom has been tested on many rifles, here are some of them.
Remington 700.
Ruger American .308.
Remington 600 Mohawk .308.
Pros

:
Value for money and super budget friendly.
Good clarity and glass quality.
Build quality is amazing.
Lightweight and provides good eye relief.
Lifetime Warranty.
Cons

:
Constructed with 2 piece tubes.
Bit distortion around the edges.
There's a plastic feel to the turrets though it's totally subjective.
Verdict

:
With an Argon-Krypton blend, the Leupold VX-Freedom is waterproof and virtually thermal shook proof. From a beginner to an experienced hunter/shooter, it's for all. It comes with a lifetime warranty too! If you are looking for something below $500 then the Leupold VX2  can be a good and affordable 308 scope for your 308 rifle.
Vortex Crossfire II 6-24×50 mm
If you're just starting out hunting and don't want to spend much, then the Vortex crossfire II can be for you. You'll surely love the price and the value this scope provides. The image it produces is so clear and crisp as if you're looking a spotting scope.
The scope is built with one piece aircraft grade Aluminum hence it speaks for its own robustness. A well-engineered construction makes it shockproof to those 308 recoils or impacts and the O-ring seals makes this scope waterproof and fog proof, hence preventing moisture and dust.
A 30 mm tube, 50 mm objective lens and a fully multi-coated lens along with adjustable objective lens produces crisp and clear images.
With max. 50 MOA elevation and windage adjustments (15 MOA per rotation) provide a decent turning room while sighting in the scope. The parallax adjustment is from 25 yards to infinity.
The capped turrets give a positive feel though the clicks aren't much distinct.
The dead hold BDC reticle is on point to calculate bullet drops (while research it was tested till 300-400 yards). The hash marks work well for windage and holdover corrections hence making this scope a good choice for hunting or shooting at diverse range scenarios.
Pros
Good Clarity (able to see bullet holes from 200 yards).
Adjustable Scope.
Long eye relief.
Fast focus eyepiece.
Holds zero well.
Lifetime warranty.
Cons

:
Loss of clarity at higher magnifications.
Parallax adjustment isn't on the side.
Weight
Tested On:
Aero Precision M5 .308 AR-10.
Remington 700 tactical AAC & SPC (.308).
Mossberg Patriot .308.
FN FAL.
Verdict

:
This can be a good choice for hunting varmints, coyotes, antelopes or anything else in case you're in a tight budget or are just a beginner. This scope clearly gives a competition to those $1000 options you might be looking at. The brand name and unconditional lifetime warranty speaks for itself.
Bushnell MSR Optics 4.5-18x40mm Rifle Scope with BDC Reticle
Bushnell is another brand well known for its decent budget rifle scopes.
The Bushnell MSR 4.5-18×40 mm scope is again specifically built for .308 rifles. Its equipped with .308 BDC reticle along with duplex crosshair. It provides many premium features at a low price.
The BDC indicators are calibrated well out to 500 yards.
It provides a versatile magnification ranging from 4.5 to 18x, making it a good 308 scope for all scenarios.
The scope is built with a scratch-proof and corrosion resistant aluminum alloy, thus gives it a strong structure.
The minimum parallax adjustment for the Bushnell MSR is ¼ MOA and gives 15 MOA adjustment per rotation.
The turrets have a good texture but it doesn't give a much positive feeling. Though there's a little hack to it. You can remove those O-rings but that will let the moisture and debris inside turrets.
The Bushnell MSR 4.5-18X40 can be the best scope for for your 308 rifle if you will be shooting at medium ranges. It's a good choice for entry level hunters who focus more on learning basic stuff first.
Tested On:
AR 15.
Ar 10.
Ruger Precision Rifle.
Pros

:
Premium features at a low price.
Good glass quality.
Works well in low light conditions.
Cons

:
Unforgiving eye relief.
Return to zero lags by 1 minute from the original zero.
Turrets feel a bit mushy.
Best Tactical Scope for 308
When choosing a tactical scope for 308, you need to consider a scope that provides quick target acquisition at varying distances, unquestionable clarity, has a reticle that is designed mainly for combat/tactical scenarios. Generally tactical scopes can be pricey but the scopes shortlisted here are for all; be it an average hunter or a pro.
Trijicon TA55A ACOG 5.5×50
What's in the name? Well Shakespeare didn't hear about the Trijicon I guess.
Who doesn't know about Trijicon, and the company that provides scopes to the US Army and Marine Corps, how would there be any questions asking about its quality?
The Trijicon ACOG (Advanced Combat Optical Gunsight) is a beast among all other 308 scopes. You can't get anything better than this.
Amazing Clarity:
Ever seen a HDTV? Well look through an ACOG and you'll get the same feel. This scope produces crystal clear super high quality image. It has a 50 mm objective lens, allowing maximum light transmission.
Its so crisp and clear that a 100 yard shot would like a 25 yard shot.
Generous Eye Relief:
The ACOG is a fixed scope for your 308 with a 5.5x magnification, therefore it provides you an eye relief of approx. 3 inches.
Rugged Design and Build Quality:
When the US army uses something, it must be damn good. The ACOG is well built for harsh conditions. The military grade aircraft aluminum alloy makes this scope virtually unbreakable and scratchproof.
Battery-Less Illumination:
Say goodbye to those battery powered fail prone scopes. The ACOG comes powered with a tritium-phosphor lamp that glows the reticle in low lights well up to 15 years!
Need more? The reticle's brightness and contrast gets automatically adjusted according to the lighting, thanks to the Trijicon Fiber Optics.
Tested On:
POF 308.
Sig Sauer .308.
M1A .308.
PTR-91 FR 308.
Verdict
Incredible! If you're the guy who is all about perfection and quality, this scope is for you. Built especially for 308s, it's rugged, fast and provides crystal clear image. With a scope like this, you can't miss the targets. This is the best scope for tactical, combat and precision shooting scenarios. Get this scope if you have a good budget.
Primary Arms 1-6x24mm Scope
If you can't afford the ACOG but still need something like it, the Primary Arms 1-6x scope especially built for 308 rifles is what you need. The body is hard anodized and made of 6063 Aluminum type II thus making it a robust beast.
ACSS Reticle:
The ACSS reticle comes bullet drop compensated for 308 Winchester. This enables the shooter to aim quickly till 300 yards and super accurately from 400 to 800 yards.
It has a partially illuminated red reticle. Need more?
It has an etched reticle, that means you can still use the scope in case the batteries die out.
Inbuilt Rangefinder:
Yes! You get the ranging and target acquisition all in one! This makes the scope best for ranging targets at unknown distances, so no more guess work. Are you sitting, standing or running? You can still shoot like a pro!
What's better?
At close range this Primary Arms scope works like a red dot, and at longer ranges (100+ yards) you use it as a scope.
Clarity:
The image produced is crisp and clear and you probably wouldn't find something like this at such a price. The multi-coated lens allows maximum light transmission. The generous eye relief wouldn't let your scope say hello to your brow.
Tested On:
BCM AR15 ( at 250-326 yards).
DPMS 308.
VEPR .308.
Verdict

:
This 308 tactical scope is a bang for the buck for sure. This scope is well suited for hunting, plinking, 3 gun matches and varmint hunting with your 308 rifle. We can safely say, Primary Arms 1-6×24 is the best choice for a 308 rifle if you need something affordable yet designed for tactical scenarios and precision shooting competitions.
You can't complain much when you get headshots at 600 yards.
Nightforce SHV Rifle Scope (5-20x56mm)
Well I guess the name is enough. This premium scope by Nightforce is best for long range shooting and hunting.
Superior toughness, glass and functionality are a few reasons Nightforce builds are of the best rifle scopes on the planet.
Recently, it was found that how a Nightforce scope managed to complete the mission even when a bullet passed right through its erection tube.
Seriously, this piece of craftsmanship is overbuilt yet comes with an affordable price tag.
The SHV scope is built of 6061-T6 aircraft grade aluminum and the walls are typically twice a s thick as compared to other scopes. The thickness provides less stress and greater thermal stability.
The SHV is a second focal plane scope and comes with an illuminated or non-illuminated reticle in either of the MOAR or IHR (International Hunting Reticle).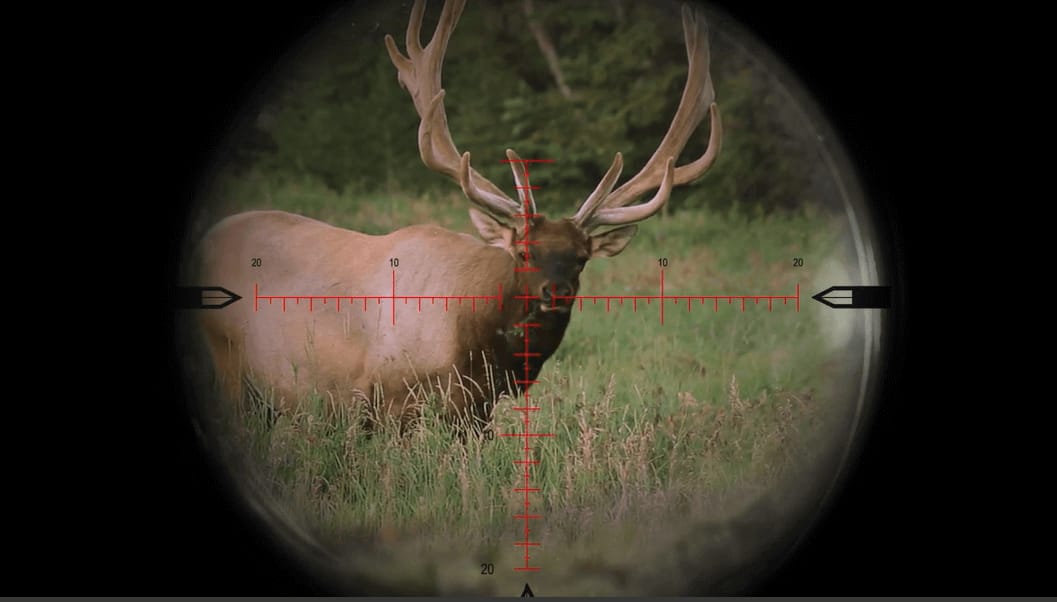 A 30 mm tube and a 56 mm objective lens combined with Nightforce's special recipe of glass coating makes this 308 scope a light transmitting machine.
With 80 MOA elevation adjustments and 50 MOA windage adjustments gives plenty of turning room when sighting in your scope. The side parallax turrets will fine-tune your target from 25 yards out to infinity. The exposed turrets which are to be lifted to set have an amazing build quality.
Tested On:
Bergera B-14 HMR .308.
Remington 700 Action.
Lazzeroni Warbird (.308).
POF 308.
Verdict

:
The SHV is in its own a class when compared to other scopes in its price range. If you ever needed something like the NXS scope in an a budget price, then the Nightforce SHV iwill be the best choice.
308 Rifle Scope Buying Guide
As buying the best scope for 308 can be a bit complicated, here's a quick guide on how to choose the best scope for the money. Whether you're a newbie or an experienced hunter/shooter, it will be really easy to understand. I have tried my best to explain the factors in really simple English.
There's No Best Scope for 308
Scope Selection totally depends on the purpose. So when you say "I need the best scope for 308", you need to ask these questions.
Will you use the 308 scope for hunting? If yes, is it at short, medium or at long range? What's the terrain type? Hunting in the woods? Or are you in the mountains?
Or maybe you're looking for the best 308 scope for tactical scenarios, where you have to be quick aiming at short and long distances.
Yes, this all can be overwhelming, but it's not that complicated.
How to Choose the Best Scope for 308 Rifle
Bottom Line:
The definition of "Best scope for 308" totally depends on your purpose. As I have already explained, this will give you an idea.
Though I have done all the hard work for you and listed some of the best all-rounder rifle scope for the 308 rifles that you'll be needing for hunting those whitetails, coyotes, and elks, or for competing scenarios.
In the end, you need to know your gun! Practice and keep practicing. Rifle scopes are really necessary for all aspects and the scopes will really enhance your game, but the more important thing that matters is your skills!
Last update on 2021-05-07